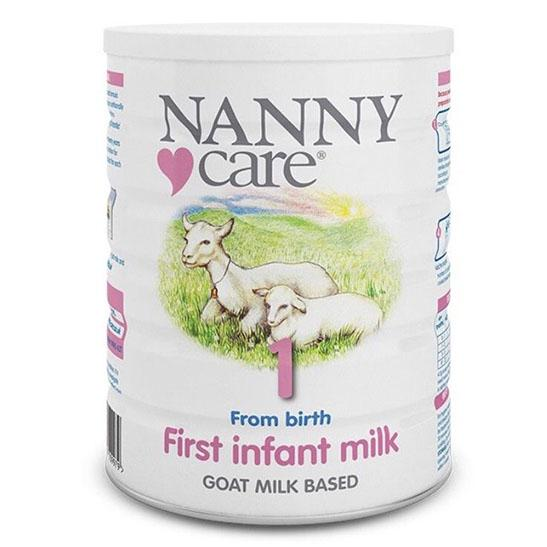 From birth to 6 months
1 can includes 400g (14.10oz)
Made with whole goat milk
Formulated to meet EU standards
Made in New Zealand 
NANNYcare Stage 1 First infant milk is a gentle goat milk based formula which is suitable for babies from birth. It is designed to be a nutritionally complete breast milk substitute which can be used for combination feeding or if your baby is not breastfed.
NANNYcare specializes in goat milk nutrition for babies and young children. They're passionate about the quality and safety of their products and particularly the suitability for infants and toddlers. NANNYcare formulas are based on the result of over 25 years of research and experience in goat milk based nutrition. Having been tested extensively worldwide, it has been clinically proven to provide nutritional outcomes comparable to breastfed infants. The formulas are based on whole goat milk and has no added whey proteins. Goat milk is an excellent source of high quality, readily digestible proteins. It forms looser, softer and more porous curds in the baby's stomach, which is particularly helpful to the baby's delicate developing digestive system. The formulas contain high levels of medium-chain fatty acids and high levels of nucleotides. NANNYcare offers a product for each stage of growth and development. Their manufactures originated goat milk formula in New Zealand more than 30 years ago and all the formulas are made with the finest New Zealand goat milk. NANNYcare's farmers treat goats gently and meet the strict EU compositional standards.
No added whey proteins 
No Gluten, Wheat or Yeast
No suitable for vegetarians 
Pasteurised Goat Milk Solids (43%) , Lactose (from Milk) , Vegetable Oils (High Oleic Sunflower, Rapeseed, Sunflower) , Minerals , Vitamins , Acidity Regulator (Citric Acid) , Choline Chloride , Antioxidant (Sunflower Lecithin) , L-Tryptophan , L-Isoleucine , Taurine , L-Carnitine , Antioxidant (Tocopherol-Rich Extract) , Vitamins: Ascorbic Acid, dl-a-Tocopheryl Acetate, Nicotinamide, Retinyl Acetate, Cholecalciferol, Calcium d-Pantothenate, Phytonadione, Cyanocobalamin, Thiamin Hydrochloride, Riboflavin, Pyridoxine Hydrochloride, Folic Acid, Biotin , Minerals: Calcium Hydroxide, Sodium Citrate, Potassium Chloride, Ferrous Sulphate, Calcium Citrate, Zinc Sulphate, Copper Sulphate, Manganese Sulphate, Potassium Iodide, Sodium Selenite .
For allergens, see ingredients in bold.
Wash hands and sterilize all equipment according to manufacturer's instructions.
Boil fresh water. Do not use artificially softened or repeatedly boiled water. Leave to cool to a minimum of 70°C, and no longer than 30 minutes maximum. Measure required water (see feeding guide), pour into sterilized bottle. 
Using the scoop provided, lightly fill with powder and level off. Always add 1 level scoop of powder (4.3g) for each 30ml of water. 
Add the required number of scoops to the cooled boiled water. 
Place the sterilized teat and cap on the bottle and shake well until the powder is fully dissolved. 
Cool under running tap. Check temperature of feed. Feed immediately. 
Feeding Guide from 0-12 months


Age (months)


Average weight (kg)

Number of feeds per day

Cooled boiled water per feed

Levels scoops of powder


ml


fl oz

0-1

Up to 4

6

90

3

3

1-2

4-5

5

150

5

5

3-5

6-7

5

210

7

7

6*-12

Over 8

4

240

8

8
 1 measuring spoon = 4.3g
The quantities of daily feeding are shown for guidance only. Minor deviations are perfectly safe. Note the volume of prepared formula is slightly greater once the water is added. *Assumes weaning at 6 months
Care Instructions:
Expiration date is indicated on each can
Store unopened can in a cool and dry place (do not refrigerate).
After opening, keep airtight and continue to store in a cool, dry place
Formula is best when stored in stainless steel or glass containers
Use contents within 4 weeks. 
Keep away from heat and humidity
For hygiene reasons, do not store prepared feeds. Make up each feed as required and always discard any unfinished feeds within 2 hours maximum. 
To avoid the danger of overheating, do not heat your baby's milk in the microwave, as hot spots may occur which could cause scalding.