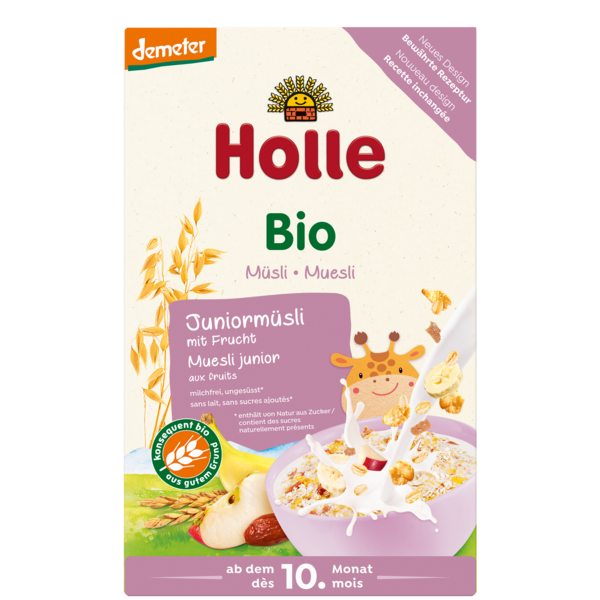 New packaging, same great recipe 

From 10 months onwards
1 box includes 1 sealed bag
250g (8.82 ounces)
Easy and versatile preparation
Whole grain
No added sugar
Demeter and EU certified
 Holle organic junior muesli multigrain porridge with fruit is made using whole grains, which are in an easily digestible form and suitable for babies 10 months onwards. Serves as the ideal breakfast meal when moving onto family food. The grains used in Holle porridges are carefully selected and are gently unlocked with heat and moisture, ready for your baby's growing body. By using wholegrain the most nutrients are retained providing a valuable foundation for a full-fledged diet, particularly in infants and small children. Holle porridges offer different variations for preparations for different diets. Can be prepared using water for milk-free muesli when starting to wean.
Holle is one of the oldest baby formula manufacturers in Europe with 80 years of history and the highest standards in the world. One of the first to be certified as a Demeter company and is now one of the leading Demeter certified baby food manufacturers. Their criteria extend far beyond the standard organic certification and all stages from growing to production are checked. Demeter farmers raise their animals on organic biodynamic local farms in humane and caring environments.
No steroids, hormones, antibiotics, lactose or GMO ingredients
No added sugar, egg, or preservatives
Highest European Organic standards
Demeter rolled oats** 30 %, Demeter cornflakes** 25 %, Demeter spelt porridge** 20 %, Demeter spelt flakes** 15 %, 3-fruit flakes* (wheat flour*, date juice concentrate*, apple juice concentrate*, banana purée*) 10%, Vitamin B1
*From organic agriculture
**From biodynamic agriculture
 Countries of origin of the main ingredients: 
Germany
Variations for preparing Holle Junior muesli Porridge with fruits for babies 10 months onwards:
Preparation of milk-free muesli with fruits:Step 1:
Mix 25g (approx. 4 tablespoons) of Organic Junior Muesli Multigrain with Fruit with 100g of your chosen fruit jar or freshly puréed fruits and 1 teaspoon of Organic Baby Weaning Oil.
Step 2:
Add water if needed (boiled, 50 °C)
Preparation with full cream milk:Step 1:
Pour 130ml of full cream milk into a bowl,
Step 2:
Stir in 25g (approx. 4 tablespoons) of Organic Junior Muesli Multigrain with Fruit.
Step 3:
Mix and serve
Preparation with infant formula:
Step 1: Prepare 170ml of your chosen infant formula (according to instructions).
Step 2: Pour the prepared formula into a bowl and stir in 18g (approx. 3 tablespoons) of Organic Junior Muesli Multigrain with Fruit.
Step 3: Allow to cool to body temperature (approx. 37 °C) before serving.
*One package yields approx. 10 meals prepared using full cream milk.
Care Instructions:
Expiration date is indicated on each box and sealed bag
Keep away from heat and humidity
Discard mixed unconsumed formula after 1 hour
Once sealed bag is open, use in the next 2 weeks.
Cereal is best when stored in stainless steel or glass containers
Always prepare fresh food for your baby. Do not use leftovers.
To avoid the danger of overheating, do not heat your baby's milk in the microwave.