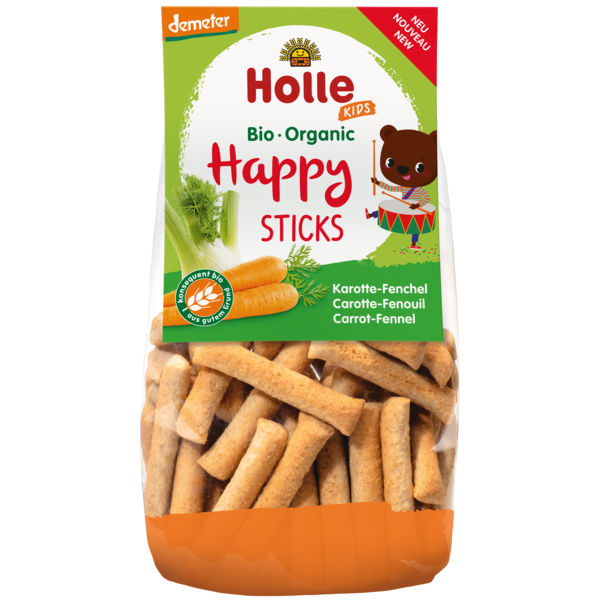 Holle's Newest Snack 
For children from 3 years old
Each bag contains 100g
Contains naturally occurring sugar
EU Organic certified
Demeter certified
Made in Germany
Holle Kids Organic Carrot Fennel Happy sticks are suitable for children from 3 years old and onwards. Made only with carefully selected organic ingredients with no added sugar. They are baked with Demeter flour, seasoned with herbs, and are slightly salted. These tasty vegetable biscuit sticks are the ideal snack between meals and on the go for kids and grown ups.  
Holle is one of the oldest baby food manufacturers in Europe with 80 years of history and the highest standards in the world. One of the first to be certified as a Demeter company and is now one of the leading Demeter certified baby food manufacturers. Demeter farms work in harmony with nature in a biodynamic manner with respect to plants and animals. Holle's ingredients and all Demeter farms are controlled annually to guarantee the highest possible safety. Holle's criteria extend far beyond the standard organic certification and their ingredient transparency is key when making their products.
No added sugar
No artificial flavors, colors, or preservatives
May contain traces of nuts, milk and sesame
Contains gluten
No additives 
No GMO
Wholewheat spelt flour* 34%, spelt flour* 34%, wholewheat barley flour* 18%, sunflower oil**, carrot powder* 4%, yeast**, ground fennel** <1%, sea salt. 
*From biodynamic agriculture 
**From organic agriculture
Care Instructions:
Good until the expiration date indicated on each bag in European format (DD/MM/YYYY)
Store in a cool and dry place
Best consumed quickly after opening 
Opened bags should be closed air tight or with a clip