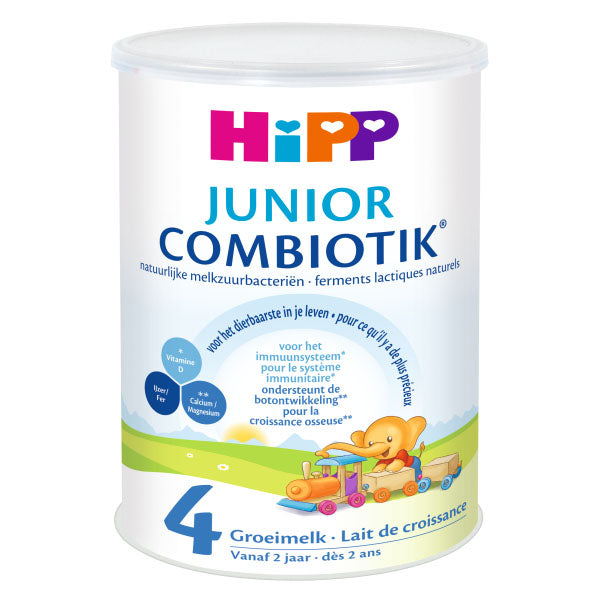 Updated recipe
From 24 months onwards

1 can includes 800g (28.21oz)

Contains fish oil
Contains Prebiotic fibers (GOS)

Contains Probiotic from natural lactic acid bacteria 

Contains Omega 3 & 6

Contains Iodine, Iron, and calcium
Adheres to HiPP's high quality requirements 
Made in Germany
HiPP Dutch stage 4 Combiotik Junior formula is a nutritionally complete formula, suitable for children from 24 months. Made with carefully selected ingredients that contains protein and fat content that's been adapted to the needs of small children. Formulated with ingredients that are strictly controlled and adhere to HiPP's high quality requirements. It is made with important minerals and vitamins, such as iron, vitamin A, C, and D. Vitamin D is essential for calcium absorption and bone growth. Toddlers need more calcium and vitamin D than adults do and HiPP has tailored their formula with adequate supply of both. Milk and dairy products are particularly important for the healthy growth of your child and are important for healthy bone development. In addition to calcium, HiPP children's milk also contains iodine and natural lactic acid cultures. This formula is ideal to drink for breakfast, with meals, or for dinner
HiPP is a family owned business that has been bringing the best organic baby food to families for 60 years. Through years of breast milk research, HiPP Nutritional Science has created a variety of formulas that suit the different needs of babies. They are the world's largest manufacturer of organic raw materials and currently have more than 8,000 farms around the world. HiPP farmers do not use harmful chemical pesticides and encourage natural pest controllers like hedgehogs, owls and hawks. They believe in keeping their livestock happy and healthy by feeding their animals an organic diet without the use of growth hormones and other additives. They do their best to provide their animals with a natural habitat by allowing them to graze and roam freely. In addition to sustainable farming, all seeds and seedlings come from organic nurseries. Aside from producing healthy organic ingredients sustainability is another one of their main focuses. HiPP's natural farming methods contribute to biodiversity and boosts surrounding ecosystems.
Gluten-free
No GMO
Contains Lactose
No added wheat, peanuts, or eggs
Skimmed milk, lactose, vegetable oils (palm oil, rapeseed oil, sunflower oil), galacto-oligosaccharides of lactose, potassium citrate, calcium salts of orthophosphoric acid, calcium salts of citric acid, magnesium sulphate, fish oil, vitamin C, iron sulphate, lactic acid stabilizer, zinc sulfate, natural lactic acid bacteria (Lactobacitum ferment), vitamin B2, vitamin A, potassium iodate, folic acid, D-biotin, vitamin D, vitamin B12
* Lactobacillus fermentum CECT5716
Wash hands and sterilize all equipment following the manufactures instructions. 
Boil fresh drinking water and cool to approx. 40°-50°C.
Measure the required amount of water into a cup(refer to the feeding guide). 
With the scoop provided, add the correct number of scoops of powder - 1 level scoop of powder to each fluid ounce of water (approx. 30ml). Level off the powder using the scoop leveler. Do not press the powder. 
Close the bottle and shake well until all the powder has dissolved (approx. 15 seconds). 
Cool prepared formula to a serving temperature of approximately 98.6°F (37°C) by holding the bottle under cold running water, and feed immediately. Always test the temperature of the milk before feeding. 
| | | | |
| --- | --- | --- | --- |
| Age | Quantity of water (ml - oz) | Measuring scoops* | Number of bottles per 24 hours |
| 2 years old | 150ml or 5oz | 5 | 2 |
1 measuring scoop = 3.6g
The quantities of daily feeding are shown for guidance only. Minor deviations are perfectly safe.
Expiration date is indicated on each can in European format (DD/MM/YYYY)
Keep away from heat and humidity
Store in a cool dry place- do not refrigerator 
Prepared formula should be consumed immediately 
Discards any leftovers at the end of the feed, or within half an hour after preparation
Once formula bag is open, use within 3 weeks
Always prepare fresh food for your baby. Do not use leftovers
To avoid the danger of overheating, do not heat your baby's milk in the microwave