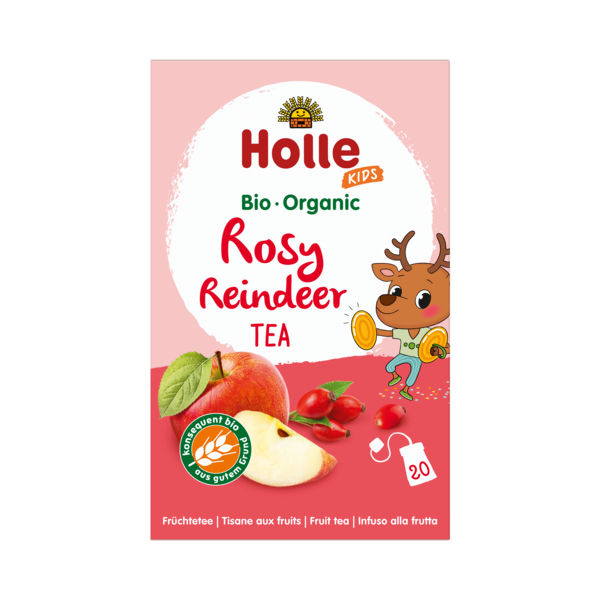 From 3 years old 
1 box contains 44g of tea
Each box contains 20 tea bags of 2.2g of tea
Carefully selected organic ingredients
EU organic certified
Made in Germany
Holle Organic Rosy Reindeer Tea for kids is an intensely fruity taste made with an aromatic blend of carefully selected organically grown apples and rosehip peels. This delicious fruit tea is 100% organic and is the perfect thirst quencher for children from 3 years old. 
Holle is one of the oldest baby food manufacturers in Europe with 80 years of history and the highest standards in the world. One of the first to be certified as a Demeter company and is now one of the leading Demeter certified baby food manufacturers. Demeter farms work in harmony with nature in a biodynamic manner with respect to plants and animals. Holle's ingredients and all Demeter farms are controlled annually to guarantee the highest possible safety. Holle's criteria extend far beyond the standard organic certification and their ingredient transparency is key when making their products.

No artificial flavorings, coloring, or preservatives
Free of gluten, lactose, and egg
Unsweetened 

Highest European Organic standards
Apple * 30%, rosehip peel * 30%, hibiscus flowers * 15%, blackberry leaves * 9%, honey bush leaves * 9%, licorice root * 7%

* From Organic farming
Holle Fruit Tea Blend is ready in a flash:  Place tea bags in a cup (200 ml) and fill with freshly boiled water. For best results, allow the tea to infuse for 5-10 minutes. 
Reindeer Icetea: Pour 100 ml of freshly boiled water over one Rosy Reindeer tea bag, leave to infuse. Fill 500 ml of cold water, fresh orange, lemon balm, and ice cubes. 
Care Instructions:
To prevent over heating do not heat Holle Organic Baby tea in the microwave. Do not allow the baby to suckle on the bottle for extended periods to prevent the onset of tooth decay. Store in a cool and dry place.