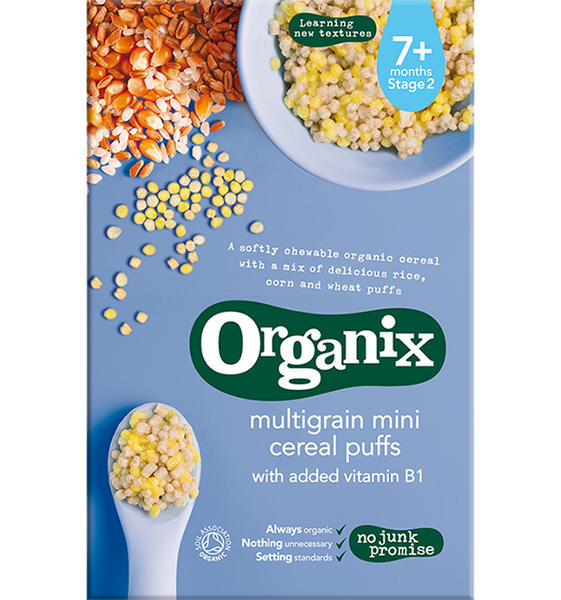 From 7 months onwards
1 box includes 1 sealed bag
90g (3.17 ounces)
Soft chewable cereal made with puffs
Can be served cold or warm
Contains natural occurring sugar
Easy preparation
EU certified
Made in Austria 
Organix has developed a line of baby porridges to be the first step for a smooth transition to solid food. Organix Multigrain Mini Cereal Puffs is suitable for babies from 7 months onwards. Made with tiny crispy puffs of rice, corn, and wheat to give your little one a chunky breakfast but with a soft and easy to chew texture. Organix goal is to encourage your little one to explore taste and texture because it helps build confidence and enjoyment with food as well as being an important milestone in their development. 
Organix was launched in 1992 with some fundamental beliefs, that everybody, no matter how young, deserves to eat well. They believe that great tasting organic ingredients and delicious recipes can encourage a life-long love of food. Their mission is to make healthy nutritious choices available for children in the food industry like schools, nurseries, and restaurants. A major concern at Organix is the impact of engineered food and the use of unnecessary ingredients, such as additives, colorings and flavors. They believe in ingredient transparency and never add anything unnecessary in their products. Their organic approach meets strict regulations to ensure the safety of your little one and their healthy development. Organix farms operate with the highest standard of animal welfare and are environmentally conscious. They are committed to setting standards with their motto, No Junk Promise. In their efforts to create a well-balanced nutritious diet for children they have teamed up with organizations, such as the Food for Life campaign, the Soil Association Found, as well as, Nottingham University's Food Science Department.
No added sugar or artificial flavor
No additives, coloring, or preservatives
May contain traces of nuts
Suitable for vegetarians 
Highest European Organic standards
Puffed wholegrain wheat flour 55%, Puffed maize flour 35%, Puffed rice flour 10%, Thiamin (Vitamin B1*) <1%
For allergens see ingredients highlighted in bold. 
Add 5 tbsp. of cold or warm milk to a clean bowl. 
Gradually add 5 leveled tbsp. of porridge into the milk. 
Mix until the porridge has thickened and serve within 30 minutes. 
*This is only a guide, minor deviations of more milk or porridge for a consistency right for your little one is perfectly safe. 
*If serving the porridge warm, it is recommended to check the temperature before feeding. 
Expiration date is indicated on each box in European format (DD/MM/YYYY)
Keep away from heat and humidity
Once sealed bag is open, use in the next 28 days
Porridge is best when stored in an airtight container
To avoid the danger of overheating, do not heat your baby's milk in the microwave.