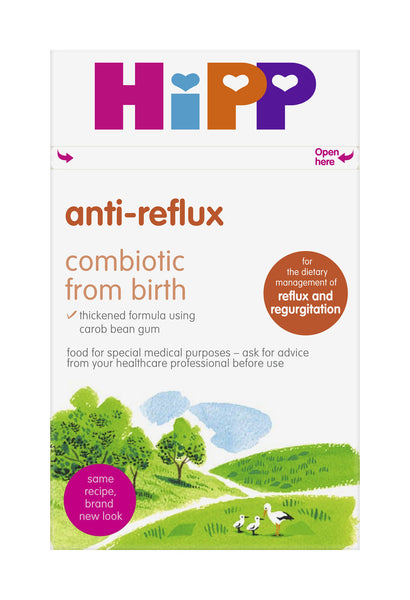 New packaging, new recipe
Packaging may slightly vary but the ingredients are the same
From birth onwards
1 box includes 2 sealed bags
800g (28.22oz)
For reflux and regurgitation
Thickened formula
Contains Vitamins A, C, and D
Omega 3 & 6 LCPs
Easy to digest
Gluten Free
Easy preparation
Made in Germany
HiPP Combiotic Anti-Reflux formula is suitable from birth onwards. This specialty formula is for children who experience discomfort from severe reflux and regurgitation. It is a gentle, nutritionally complete, thickened formula that can be used to alleviate the discomfort of digestive issues. The addition of carob bean gum, which has naturally thickening elements, allows the formula to thicken in the bottle and in turn helps to keep the feed down. It is not uncommon for babies to experience small amounts of spit up after feedings. Under medical supervision, this formula is suitable for use from birth onwards as the sole source of nutrition or as part of a weaning diet from 6 months for your baby. If parents believe their baby suffers from severe or more than occasional reflux, please seek advice from a medical healthcare professional before beginning this formula. HiPP AR formula has everything necessary for a baby's development, such as Vitamins A, C and D. Vitamin D is essential for calcium absorption and bone growth. Omega 3 & 6 LCPs, found in breast milk, are also added to the formula. Omega 3 & 6 LCPs are long chains of polyunsaturated fatty acids that help babies with brain and eye development.
HiPP is a family owned business that has been bringing the best organic baby food to families for 60 years. They have 8,000 carefully selected farms and 57 countries worldwide that sell their products. HiPP farmers do not use any artificial fertilizers, instead they run regular crop rotations and use natural pest controllers such as, hedgehogs, owls and hawks, rather than harmful chemical sprays. Their animals live healthy and happy lives with their strict species-appropriate livestock farming ways, without the need for growth hormones or other drugs. They allow their animals to roam freely in the open air and woods to graze and enjoy organic food themselves. This also helps biodiversity and natural forest cycles. Every step of the process from the seedlings that come from organic nurseries to the organic soil they are planted in and grown on, all the way to production, all adhere to strict organic guidelines that are checked at every step.
No added egg or wheat 
Contains milk and lactose 
Gluten free
No added nuts, peanuts, celery/celeriac 
No suitable for vegetarians 
Skimmed milk, whey product, vegetable oils (palm oil, rapeseed oil, sunflower oil), lactose, thickening agent locust bean gum, fish oil, potassium chloride, calcium carbonate, Mortierella alpina-oil, sodium citrate, calcium salts of orthophosphoric acid, choline, calcium chloride, L-phenylalanine, L-tyrosine, L-leucine, magnesium carbonate, L-tryptophan, L-histidine, ferrous sulphate, stabilizer lactic acid, vitamin C, zinc sulphate, niacin, pantothenic acid, inositol, vitamin E, cupric sulphate, vitamin A, vitamin B1, vitamin B6, potassium iodate, folic acid, sodium selenate, vitamin K, vitamin D, D-biotin, vitamin B12.
Allergens: see ingredients in bold
Step 1:
Wash hands and sterilize all equipment following the manufactures instructions.
Step 2:
Boil 500ml (16.90 fl oz) of freshly run water and leave to cool for 45 minutes. Do not use artificially softened or repeatedly boiled water.
Step 3:
Measure the required amount of water into a sterilized bottle (referring to the feeding guide).
Step 4:
Using the scoop provided add the correct number of scoops of powder- 1 level scoop of powder to each fluid ounce of water (approximately 30 ml). Level off the powder using the scoop leveler. Do not press the powder.
Step 5:
Place the sterilized nipple and cap on the bottle and roll between the palms for 5 seconds. Shake for 20 seconds, then leave to stand for 7 minutes to thicken.
Step 6:
Shake again, then check that the milk is at feeding temperature (approx. 37°C). Feed immediately. Always test the temperature of the milk before feeding.
Age

Number of milk feeds per 24 hours*

Amount of cooled boiled after per feed
(ml - oz)

Number of level scoops of powder per feed.

0-2 Weeks

7-8

60ml or 2oz

2

3-4 Weeks

5-7

90ml or 3oz

3

5-8 Weeks

5-6

120ml or 4oz

4

2-4 Months

5

150ml or 5oz

5

5 Months

4-5

180ml or 6oz

6

About 6 months

4

210ml or 4oz

7

7-9 Months

4

150ml or 5oz

5

10-12 months

3

120ml or 4oz

4
*1 measuring scoop = 4.3g powder

This table is a guide only and may need more or less than the volumes stated. If you need more advice, please contact your healthcare professional.
Care Instructions:
Expiration date is indicated on each box and sealed bag in European format (dd/mm/yy)
Store in a cool dry place - do not refrigerate
Keep away from heat and humidity
HiPP AR is a thickening formula, use single-hole nipple, fast flow nipple
Discard mixed unconsumed formula after 2 hours
Once formula bag is open, use in the next 3 weeks
Formula is best when stored in stainless steel or glass containers
Always prepare fresh food for your baby. Do not use leftovers.
Do not heat feeds in a microwave, hot spots may occur which could cause scalding
This product should not be used in conjunction with antacids or other feed thickeners.
Due to the presence of the natural thickener carob bean gum in this formula, you may notice that your baby's stool becomes softer. This is perfectly normal.