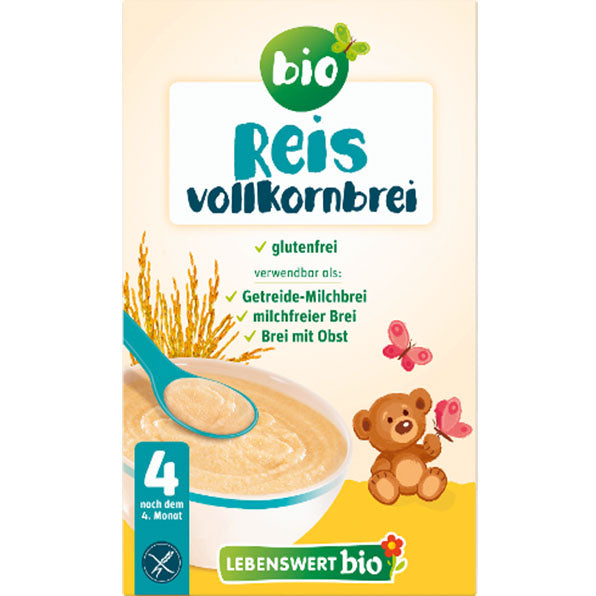 From 4 months onwards
1 box includes 1 sealed bag
225 g (7.94 ounces)
Wholegrain
Easy to digest
Gluten Free
Milk Free
No added sugar
Easy preparation
Bioland certified
Lebenswert rice porridge is made using whole grains, which are in an easily digestible form and is suitable for babies 4 months onwards. The grains used in Lebenswert porridges are carefully selected and are gently unlocked with heat and moisture, ready for your baby's growing body. By using wholegrain the most nutrients are retained providing a valuable foundation for a full-fledged diet, particularly in infants and small children. Lebenswert porridges offer different variations on preparations for different diets.
The ingredients used in Lebenswert cereals are derived exclusively from organic farmers that adhere to the strict guidelines of the bioland association. These strict guidelines go far beyond the EC Eco-regulation and guarantee the highest quality of food. The farmers and manufactures are regularly checked for compliance with the bioland guidelines and must be approved by inspectors. Organic farmers guarantee plant protection and fertilization without chemical-synthetic agents, cultivation of soil fertility, proper feeding and keeping of animals. The food produced in this way is sustainable and gentle for the environment.
No gluten, steroids, hormones, antibiotics, or GMO ingredients
No added sugar, egg, or preservatives
Highest European organic standards
Rice wholemeal flour*, vitamin B1
*Organically grown
Variations for preparing Lebenswert Rice Porridge:
Preparation with half milk half water:
Step 1: Boil 100ml of whole milk and 100ml of water and allow it to cool to about 50°C. 
Step 2: Stir in 22g of organic baby rice (approx. 5-6 tbsp).
Step 3: Allow the mixture to cool to room temperature (approx. 37°C)
Preparation with infant formula: 
Step 1: Prepare 170ml of infant formula relative to your baby's age (following the appropriate formula instructions).
Step 2: Allow it to cool to 37°C
Step 3: Transition mixed formula into a bowl and stir in 17g of Lebenswert Organic Wholegrain Rice Porridge (about 4-5 tablespoons).
Step 4: Let the mixture to swell and wait until it cools down to consumption temperature (approx. 37°C) 
Preparation with breastmilk:
Step 1:
Stir 25g of organic baby rice (approx. 5 tbsp) into 130ml of warm breastmilk.
Recommendation:
To preserve the valuable nutrients, do not heat breastmilk above 40°C.
Preparation for Milk-free cereal:
Step 1: Boil 180ml of water and allow it to cool to about 50°C.
Step 2: Mix 22g of Organic baby rice (approx. 5-6 tablespoons) with 1 teaspoon of organic baby-oil.
Step 3: Let the mixture cool to room temperature (approx. 37°C). 
Preparation for Milk-free cereal with fruit or vegetables:
Step 1: Boil 70ml of water and allow it to cool to about 50°C.
Step 2: Add 15g of baby rice (approx. 3-4 tbsp) and 75g of feshly pureed fruit
Step 3: Add 1 tsp of organic baby-oil and mix.
Care Instructions:
Expiration date is indicated on each box and sealed bag
Keep away from heat and humidity
Discard mixed unconsumed cereal after 1 hour
Once sealed bag is open, use in the next 2 weeks.
Cereal is best when stored in stainless steel or glass containers
Always prepare fresh food for your baby. Do not use leftovers.
To avoid the danger of overheating, do not heat your baby's milk in the microwave.