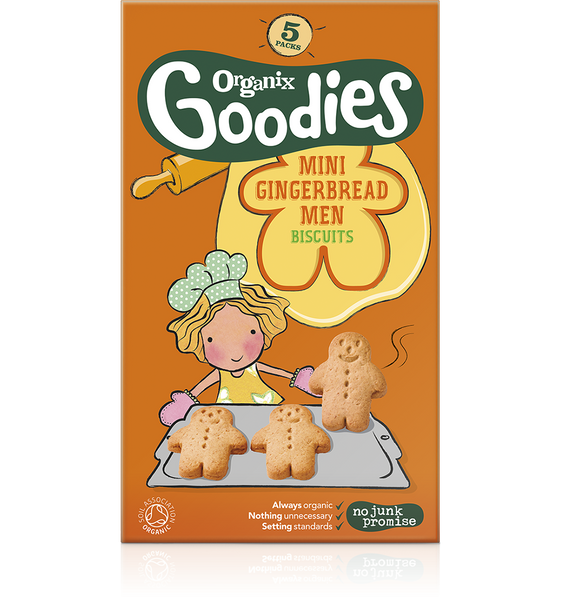 From 12 months onwards
1 box contains 5 individually wrapped bags of 25g each
125g 
EU certified
Made in Germany 
Organix Mini Gingerbread Men Biscuits are the ideal individually wrapped snacks  for toddlers on the go. Suitable from 12 month onwards. Organix Mini Gingerbread Men Biscuits are full of spice and all things nice and are delicious with a glass of milk. Organix goal is to encourage your little one to explore taste and texture because it helps build confidence and enjoyment with food as well as being an important milestone in their development. 
Organix was launched in 1992 with some fundamental beliefs, that everybody, no matter how young, deserves to eat well. They believe that great tasting organic ingredients and delicious recipes can encourage a life-long love of food. Their mission is to make healthy nutritious choices available for children in the food industry like schools, nurseries, and restaurants. A major concern at Organix is the impact of engineered food and the use of unnecessary ingredients, such as additives, colorings and flavors. They believe in ingredient transparency and never add anything unnecessary in their products. Their organic approach meets strict regulations to ensure the safety of your little one and their healthy development. Organix farms operate with the highest standard of animal welfare and are environmentally conscious. They are committed to setting standards with their motto, No Junk Promise. In their efforts to create a well-balanced nutritious diet for children they have teamed up with organizations, such as the Food for Life campaign, the Soil Association Found, as well as, Nottingham University's Food Science Department.
No additives, coloring, or preservatives
May contain traces of nuts
Suitable for vegetarians 
Highest European Organic standards
Wholegrain wheat flour 30%, Wheat flour 30%, Grape juice concentrate 29%, Sustainably sourced palm oil 6%, Sunflower oil 3%, Ginger powder <1%, Raising agent* (sodium bicarbonate) <1%, Thiamin (vitamin B1) <1%
 
*Raising agent (sodium bicarbonate) and Thiamin have no organic certification
Store in a cool dry place