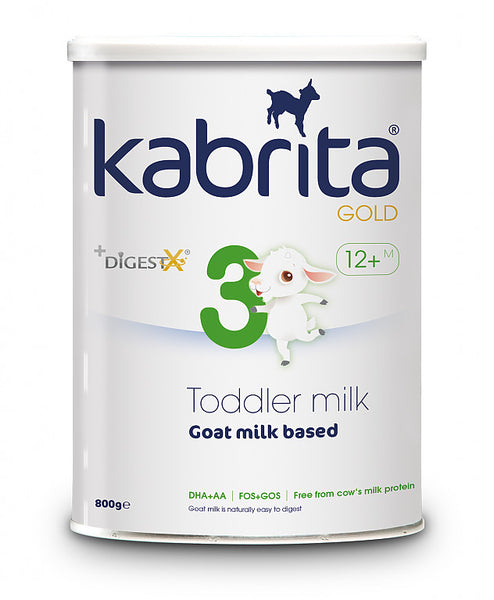 From 12 months onwards
Each can contains 800g (28.21oz)
Acids (DHA & AA) and prebiotic fibers (GOS)
Easy to digest
Made in Holland
Kabrita 3 Toddler milk is suitable for babies from 12 months onward. In this new stage of your little ones development, they will become much more active and have different nutritional requirements. Kabrita 3 Toddler milk has been specifically developed to meet these new nutritional requirements as a part of a varied diet. Made from high quality goat milk, this formula is enriched with all the required vitamins and minerals to ensure your little one gets all the energy and nutrients needed to prosper every day. It contains carefully selected ingredients, such as unsaturated fatty acids (DHA & AA), which supports the normal eye-sight and brain development. It also contains prebiotic fibers (GOS) that help main the gut flora by stimulating the growth of beneficial bacteria (Bifido-and lactobacilli). Kabrita goat milk formula is naturally easy to digest due to a unique fat and protein composition.
Kabrita was established over 100 years ago in 1897. Their first factory processed high quality milk from their farms into specialized dairy products for the Dutch market. Kabrita is produced by a group of Dutch dairy companies that have multiple production facilities around the Netherlands. Each factory has it's own history in the production of baby milk and over 75 years of experience in developing specialized baby milk formulas. The gentle goat milk formulas are made from Dutch goat milk, known for its high quality and mild taste. Being inspired by mother's milk, Kabrita contains special DigestX OPO-fatblend (also known as bèta-palmitate). Breast milk is known to contain a high amount of bèta-palmitate, which contributes to calcium absorption. Kabrita formulas are specifically developed to meet the nutritional requirements of your little one. Goat milk is the main ingredient and all other ingredients are added to render a complete, modern-day infant formula. The core of Kabrita's company has always been to produce high quality goat milk based nutritional products. In 2000 Kabrita development of a complete range of goat milk based infant, follow-on, and toddler milks. Over the years, Kabrita has continued to grow and is currently one of the leading brands in goat milk based nutritional products. Every Kabrita farmer is required to become a member of NGZO (the Dutch goat milk dairy association) and comply with the corresponding guidelines and legislation.
Lactose 
(milk)
, Full goat 
milk
 powder, Vegetable oils (High sn-2 palmitic acid oil, Soybean oil, Palm kernel oil, Sunflower oil), Skimmed goat 
milk
 powder, Goat whey protein concentrate 
(milk)
, Glucose syrup solids, Galacto-oligosaccharides (GOS) 
(milk)
, Fructo-oligosaccharides (FOS), Minerals (Tri calcium phosphate, Tri sodium citrate, Tri calcium citrate, Calcium carbonate, Potassium hydroxide, Ferrous sulphate, Zinc sulphate, Copper sulphate, Manganese sulphate, Potassium iodide, Sodium selenate), Docosahexaenoic acid-rich oil (DHA) 
(fish)
, Arachidonic acid-rich oil (AA), Choline bitartrate, Vitamins (L-ascorbic acid, Sodium L-ascorbate, DL-alpha tocopheryl acetate, Nicotinamide, Calcium D-pantothenate, Thiamine hydrochloride, Riboflavin, Retinyl acetate, Pyridoxine hydrochloride, Folic acid, Phytomenadione, D-Biotin, Cholecalciferol, Cyanocobalamine), Choline chloride, Taurine, Inositol, L-carnitine.
Allergen information: contains milk, fish
Ingredients may vary between countries and regions in order to comply to local legislation.
Step 1:
Wash hands and sterilize all equipment following the manufactures instructions.
Step 2:
For a cup of 165ml: heat up 150ml of water to approximately 40°C
Step 3:
Add 5 level scoops of Kabrita Gold 3. 
Step 4:
Mix well for 10 seconds to dissolve powder. Test the temperature on the inside of your wrist. 
-Prepare the milk no more than 1 hour before feeding. Wash your hands thoroughly before preparing the milk. 
Baby's approx. Age

Number of feeds per 24 hours

Number of levels scoops

Water per feed

(ml - oz)

>12 Months

2-3

5

150ml or 5oz
1 measuring scoop = 4.83g powder
The quantities of daily feedings are shown for guidance only. Minor deviations are perfectly safe. Please only use the enclosed measuring scoop.
Care Instructions:
Expiration date is indicated on each can
Keep away from heat and humidity
Once formula bag is open, use in the next 4 weeks
Formula is best when stored in stainless steel or glass containers
Always prepare fresh food for your baby. Do not use leftovers.
Do not heat feeds in a microwave, hot spots may occur which could cause scalding.